[Hugpapa] Dial-Fit BOA Technology 3-In-1 Removable Hip Seat Baby Carrier with 1-year Warranty - Light Grey (Available in 5 Colors)
Regular price $269.00 $219.00 Sale
Product Description:
World 1st micro-adjustment sizing baby carrier powered by BOA Closure System
3 in 1 multi-functional baby carrier; Hip Seat, Hip Seat Carrier, Baby Carrier
6 position available; Face inward in the hip seat, Face-inward & outward in hip seat carrier, Face-inward & outward in the baby carrier, Back carry in the baby carrier
Suitable for 3-36 months baby weighing up to 20kg
Shell: Water-proof & dirt-resistant polyester 100%, Liner: 100% Cotton
Lifetime warranty on BOA Closure System
One Year Warranty on Other Parts
Innovative micro-adjustment technology changes how you hug your baby. Dial-Fit is the world's first baby carrier line made with BOA Technology, the world's best micro-adjustment technology, and Korea's world-class baby product manufacturing expertise. Experience a whole new way to hold your baby with Dial-Fit, powered by the BOA Closure System. Dial-Fit makes it easy to find the best healthy fit for you and your baby, as well as any other caregivers who need different sizings. Now you can adjust the carrier to the best fit for both baby and caregiver with a C-Shape of the baby spine with just a few turns of the dial.
Dial Fit - Three in One Hip Seat Baby Carrier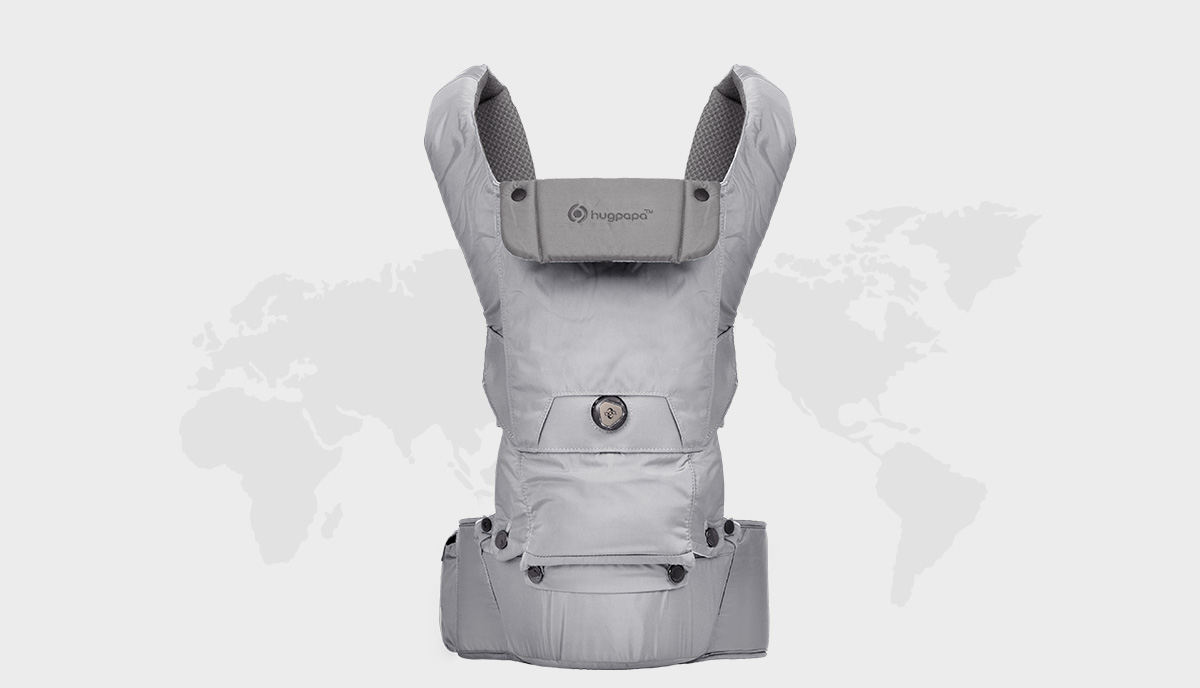 Age of use: 0-36 months / Weight: 3.4-20kg
(Newborns under 5kg or under 3 months use an optional newborn insert)

The world's first patented dial fit, customized fit in just 3 seconds

All-in-one baby carrier from newborn to 36 months

More comfortable with double structure hip seat foam and ergonomic design

Safer baby carrier made with a global number one partner

What is Dial-Fit?
The world's first 
fitting solution that Papa Hugs and American BOA Technology jointly developed by the patent
 is.
BOA Technology's dial & lace-based fine adjustment technology, which boasts the world's best safety and performance, is applied to baby products to provide the most comfortable and healthy performance fitting for both babies and wearers.
The dial-fit system, which has been subjected to various preliminary tests and quality inspections, can be used semi-permanently with high durability and can be used with confidence through a 
lifetime warranty
.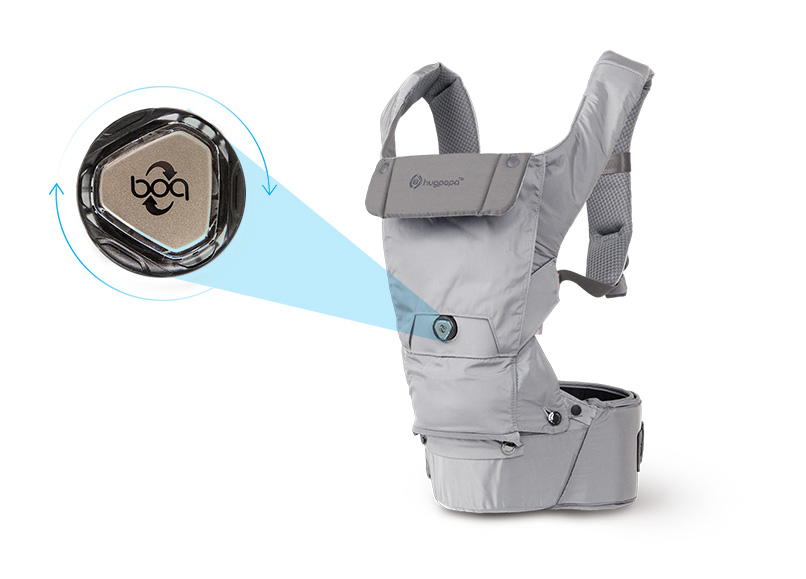 Why do you need dial fit?
Dial Fit allows you to quickly and easily create an accurate fit to the baby's waist and pelvis by simultaneously adjusting the length of the left and right straps in mm.
With dial fit, you can always create a natural C-shape on your baby's spine and prevent both spines bending forward excessively. It also provides provides M-shape to the baby's pelvis.
Caution! Make sure you are holding the baby in the right position with the baby carrier.
For babies who grow up differently from day to day, hug them with dial fit
The baby carrier needs to be fitted differently depending on the baby's growth rate and the holding position.
Dial fit accurately creates an optimal fit.
Both mom and dad use dial fit.

After 3 months, it is difficult to handle a baby over 8kg alone.
Dad's natural parenting involvement begins with a hug.
Dial fit can be fine-tuned up to 22cm, making it easy for mom and dad to fit each other when using a baby carrier.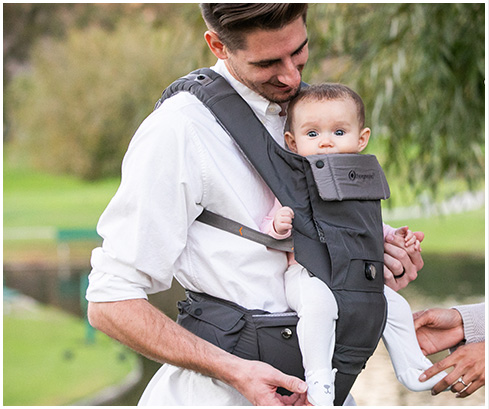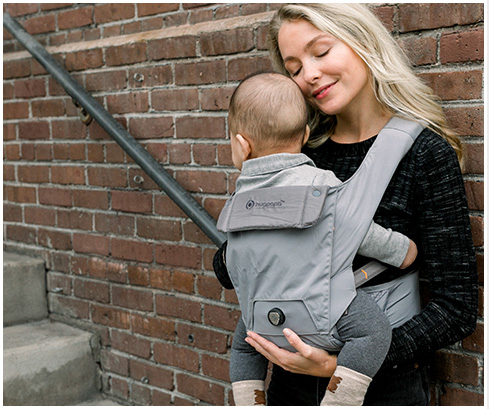 Create custom fit with dial fit in 3 seconds

All-in-one from newborn to 36 months
Hip sheet

When the neck cannot be restrained, be sure to use it as if lying on the baby's neck and waist with both hands

Baby carrier

Used from the time when the neck is tightened. Newborn inserts sold separately are recommended for babies who cannot constrict their neck or under 5.5kg

Hip Seat Baby Carrier

Use from when you can sit

M-shape on baby's pelvis from newborn to 36 months
The hip seat foam has an ergonomic design to create a natural M-shape on the baby's pelvis.
If you remove the hip seat foam and use it in baby carrier mode, it provides an M-shape that is perfect for the newborn pelvis.
In addition, the hip sheet distributes the baby's weight toward the stomach once more, thus protecting the mother and father's waist health.
Adjust the thigh support to make the hip width that fits the baby.

#Adjust the thigh support to make the hip width that fits the baby.
The two-step thigh support adjustment makes it easy to create a hip posture that fits your baby's posture and body shape.
When the support is folded

When using the baby carrier or hip seat baby carrier in the front view position, fold the support.
(However, it is recommended to use the baby for a limited time over 6 months in consideration of the health of the baby and the wearer's back in the front view position.)
When the support is unfolded

Use the baby carrier or hip seat baby carrier in a right-to-face or back-catch position.
HUGPAPA Dial-Fit 3-in-1 Hip Seat Baby Carrier is acknowledged as a "hip-healthy" product By IHDI.
Find more info about your baby's hip health here.
It is easy and fast to change 9 positions without any separate components.
Newborns under 5kg are recommended to use an optional newborn insert.
The timing of use of baby carriers and newborn inserts varies depending on the baby's development status.
For babies from 3.4 to 5.5 kg, use a newborn insert to hold them.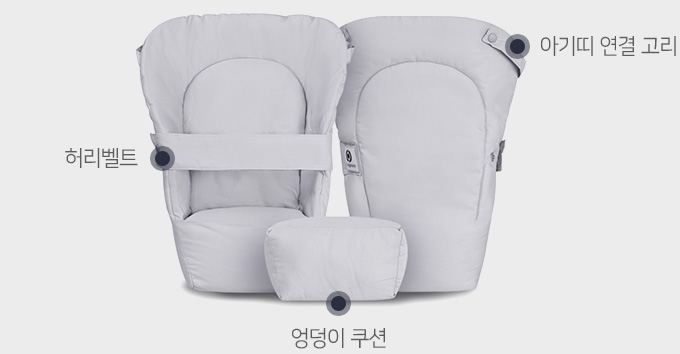 Waist Belt, Hip Cushion, Baby Band Connection Ring.
Lay the baby on the newborn insert and fasten the waist belt.
Put on the baby carrier while holding the newborn insert and fasten the tether to the baby carrier's aka strap.
(Refer to the manual for detailed usage)

Double structure premium hip seat foam
The entire hip seat foam provides sufficient cushioning in all directions, making it
more comfortable not only for babies but also for mothers with discomfort in the pelvis due to cesarean section .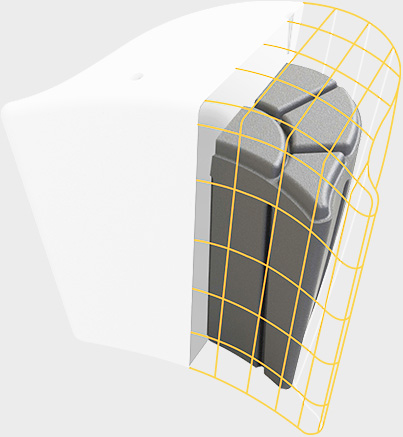 Dual structure design that provides both rigidity and cushioning
The core is made of light and hard EPP material, and the outside is made of soft, fluffy PU material to provide perfect cushioning while supporting the baby's weight.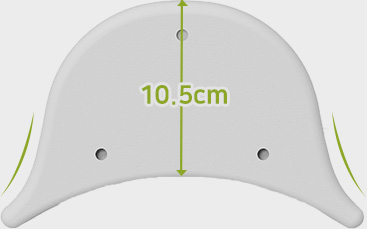 It provides the most comfortable posture with its compact size and ergonomic design.
The angle of the top for the baby to sit safely and the curved design that is comfortable on the baby's thighs. And up to the optimal compact size for babies up to 36 months. This is the most comfortable hip seat foam for babies.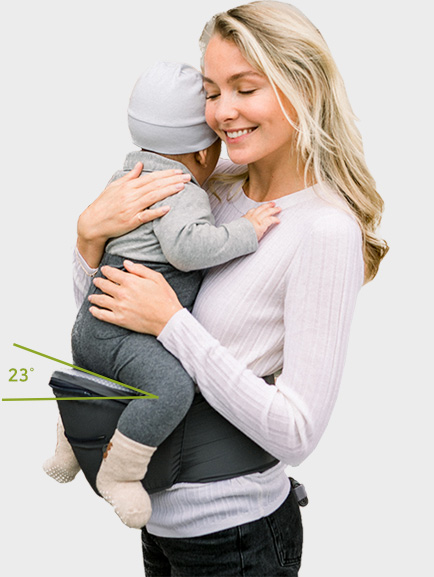 Ergonomic design in consideration of mom and dad
620g ultra light weight that can hold you longer!
Hugpapa Dial Fit Baby Carrier minimizes the burden on the wearer's waist or knees in any mode.
* When using the hip sheet implant, the weight is 750g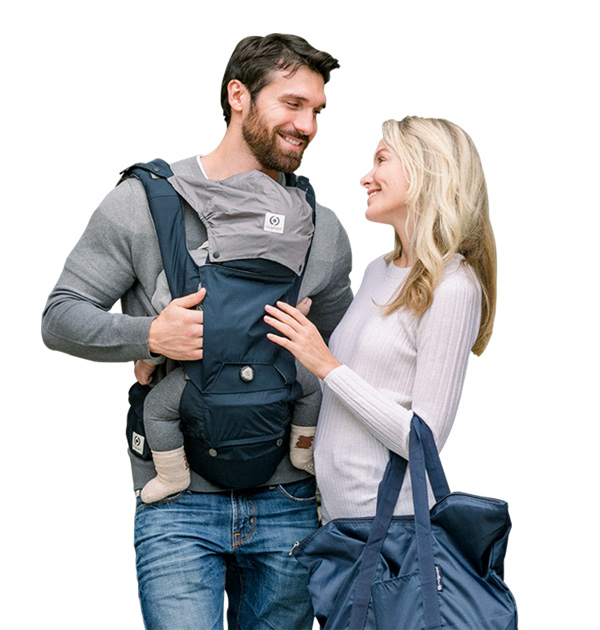 A more comfortable shoulder strap on the mother's shoulder!
High-elastic polyurethane foam distributes the baby's weight to minimize shoulder pain.
Premium 3D mesh fabric enhances breathability for a cooler fit.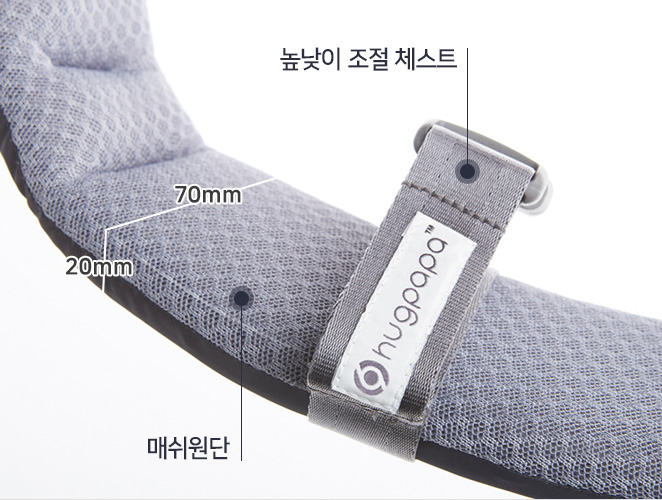 Tip. Important chest buckle position for baby carrier fitting
If you place the chest buckle between the point where the wearer's neck and vertebrae meet or 4-5cm below it and tighten it, you can create a more secure and comfortable fit!

Tip. Adjust the shoulder strap before using the dial fit
Dial fit can be sized up to 22cm in mm increments.
Therefore, be sure to adjust the length of the webbing belt of the shoulder strap in the following order, taking into account the body shape of the main user.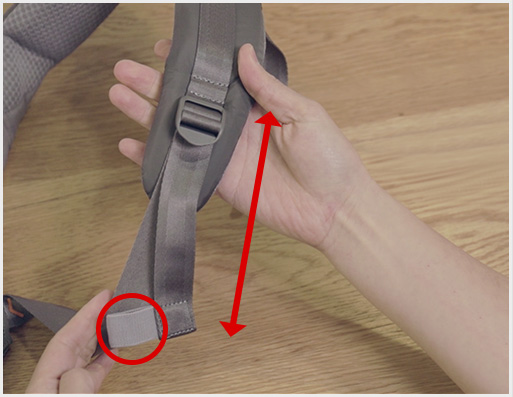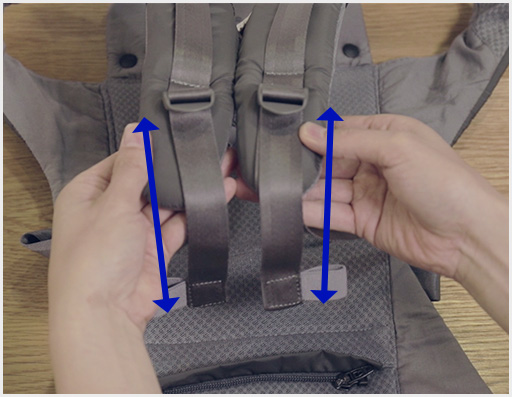 1. Unscrew the rubber band at the end of the shoulder strap. (Red circle in the picture on the left)
2. Adjust the length of the webbing belt at the end of the shoulder strap. (Red arrow line in the picture on the left)
3. For dads who wear XL size or larger, adjust appropriately to less than 5cm.
4. In the case of a mother wearing SM size, adjust it appropriately to 13cm or more.
5. Make sure the webbing belts of both shoulder straps are the same length. (Blue arrow line in the picture on the right)
A healthier waist belt for the waist of mom and dad!
The wide 140mm width distributes the baby's weight on the waist
6-inch pocket for easy storage!
It is 6 inches large and can accommodate mobile phones.
There is a lid to reduce the risk of loss.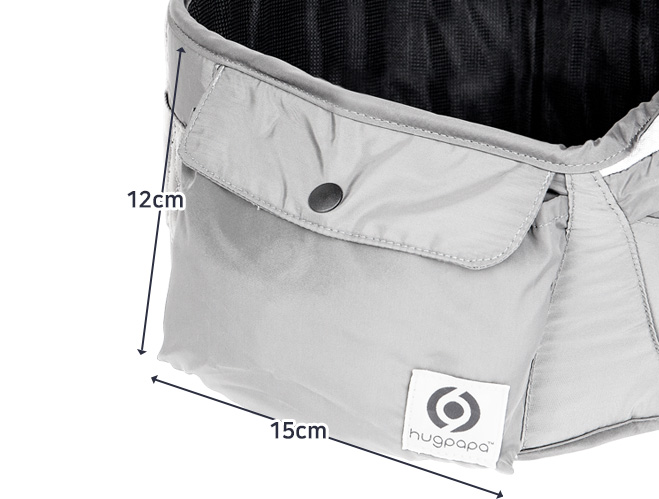 Big size dad is also OK! Waist extension belt [sold separately]
No worries about big-sized dads with a waist circumference of 43 inches or more. Comfortably hug through the extension belt.


Ergonomic design that is safer for babies, Headrest to protect baby's head safely
High elastic 10mm foam protects baby's head from external shocks.
Cut-off seams are inserted at both ends to fit the baby's head naturally.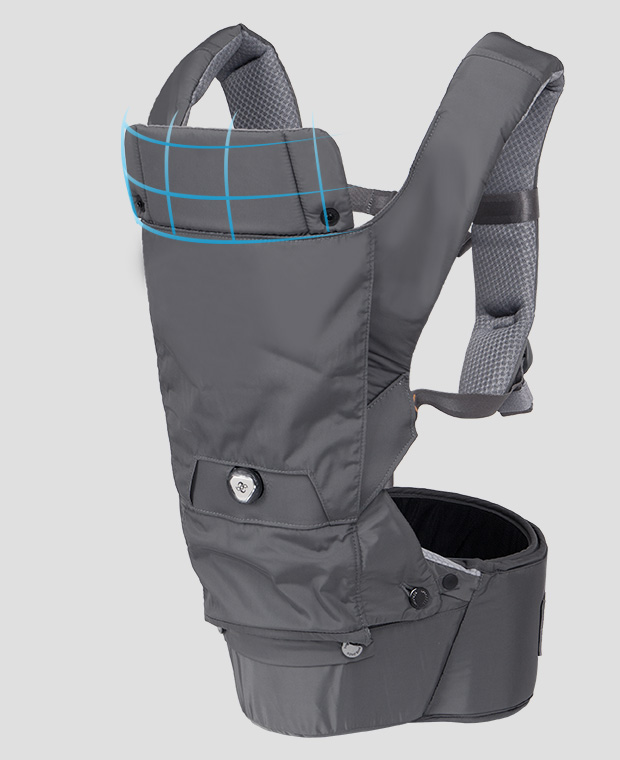 How to use the headrest
For babies under 5 months old, it is recommended to use the headrest folded to prevent suffocation and to check the baby's condition.

How to use sleeping hood
For babies older than 5-6 months, when asleep, the sleeping hood can be secured with snap buttons on the front panel of the baby carrier and shoulder straps to prevent neck breakage. It can also be used to protect baby's head from strong UV rays.
Fit on the baby's ass! Non-slip hip seat!
The non-toxic non-slip material prevents the baby's hips from slipping on the hip seat to prevent accidental fall.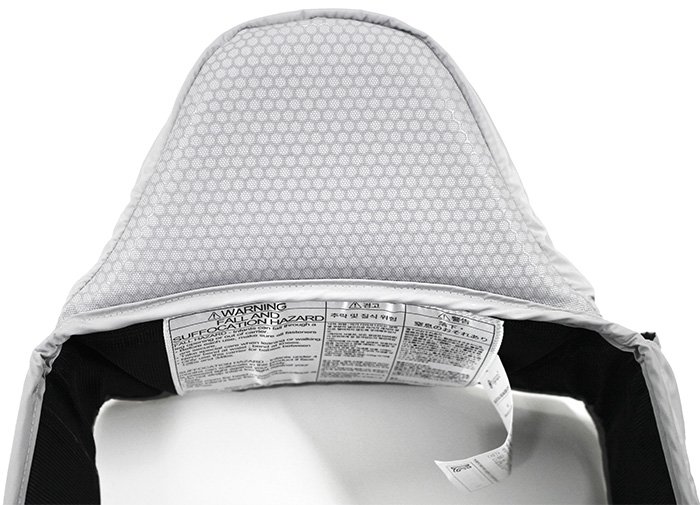 Premium material considering safety and functionality
Hugpapa's unique Hands-Thru design helps keep
your baby out of the rain and wind while providing high breathability to the baby carrier's front.
# Waterproof material

The outer fabric is made of a functional polyester material that provides antifouling and waterproof functions, so it can be used lighter and cleaner.
# 3D air mesh and pure cotton material

The lining is a premium 3D air mesh material that provides cool and cushioning.
The headrests, left and right shoulders, thigh supports, and hoods inside the baby carrier where the baby's skin touches are made with 100% pure cotton to minimize irritation.
# Plastic Velcro

The plastic Velcro of the waist belt is an ultra-strong premium Velcro that can support babies over 20kg without damaging the fabric.
# Webbing belt

A high-density webbing belt keeps your baby safer.
# Hands Through

Always airy hands-through front panel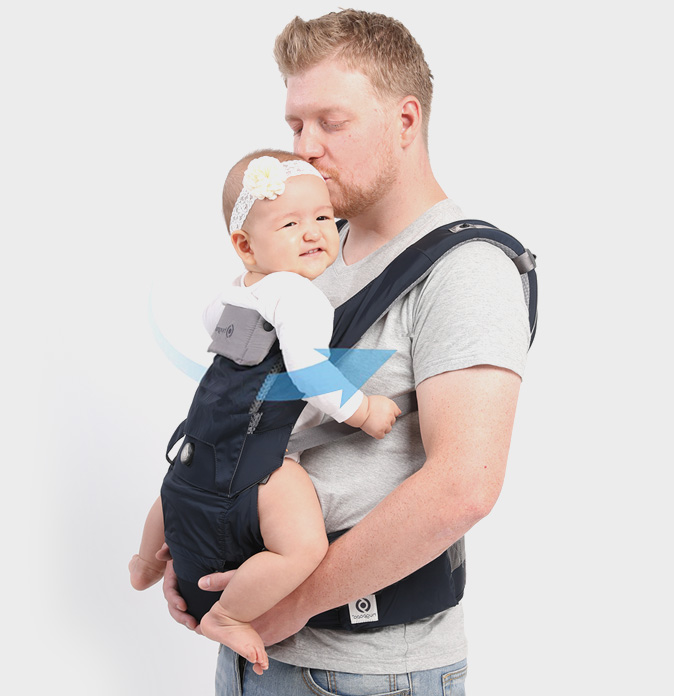 Brand Collaboration Story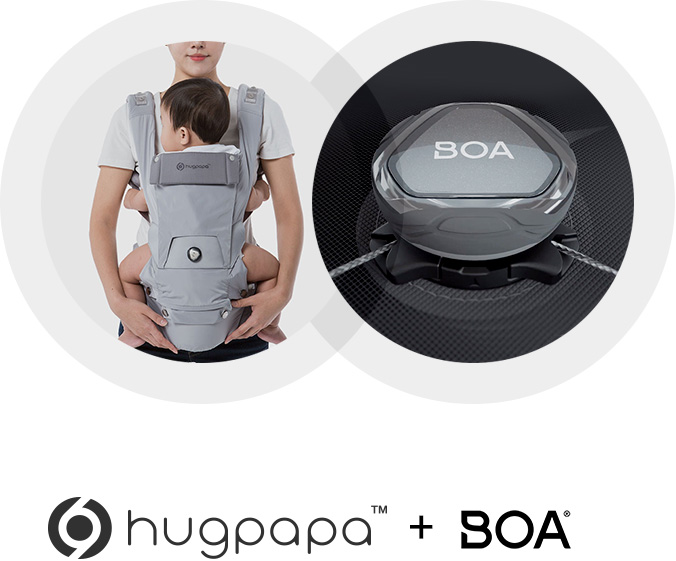 Hugpapa is a brand for going out for infants that developed the world's first dial-controlled baby carrier in Seoul, Korea in 2017 with BOA Technology and launched through crowdfunding.
From a novice father raising two children, a small idea to improve the discomfort of an existing baby carrier
meets innovative technology, changing the hugging experience of all mothers and fathers in the world.
-
BOA Technology is the world's best performance to provide fitting solutions to leading global brand
with a global brand that helps the innovation of world-class gear (Gear) through collaboration.
In 2001, the world's first dial and lace-inspired closure system was developed in Denver, USA, and
so far , it occupies more than 50% of the world market.

We are with a world-class partner brand that you can trust with confidence.
COLOR LINE UP

Light Grey, Dark Grey, Charcoal, Khaki, Navy Blue.
Dial Fit Components

Product specification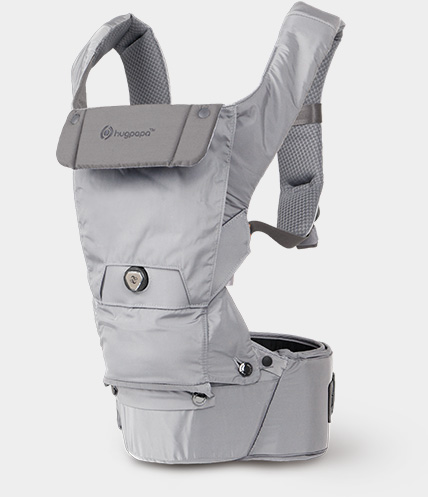 Model
 Dial Fit Three-in-One Hip Seat Baby Carrier
Lining
 100% polyester, 100% cotton
Reinforcement
 EPP, 100% polyurethane
Filling:
 100% polyethylene, 100% polyurethane
Weight
 750g (620g when used in baby belt mode)
Age of use
 0-36 months (0-2 months use optional newborn insert) 3.4kg-20kg
KC certification number
 CB161R061-8001
BOA dials come with a lifetime warranty.
Hugpapa Dial Fit is backed by a lifetime warranty from BOA Technology, USA.
If you complete the genuine registration on the official website of Hugpapa, BOA Dial promises to provide a lifetime warranty and A/S for free.

Precautions for use
Be careful not to let the baby fall out of the carrier as the sides of the baby's legs are wide.
• Before using the carrier, make sure that all locks (buckles) are securely locked.
• Particular care should be taken when the wearer leans over or walks while carrying a baby in a carrier.
• When lowering your posture while wearing a carrier, it is safe to lower your posture by bending your knees, not your back.
• The carrier can only be used for babies weighing 3.4kg-20kg.
Be aware that babies under 4 months of age may cause suffocation if the wearer's body and the baby's face are in close contact.
• Adjust the lock properly so that the baby does not get too close to the wearer's body.
• Make room for your baby's head to move freely.
• Always be careful not to obstruct your baby's face.

Precautions for washing
Before washing, remove the hip seat foam from the waist belt and fill in all buckles and Velcro.
Washing should be hand-washed with a neutral detergent, and do not bleach/scent/dye/chlorine or detergents containing fluorescent light-emitting agents.
Dial-Fit Hip Seat Baby Carrier User's Guide
Genuine accessories

Cocoon Baby Carrier Padded Warmer
Simple design without cumbersome with minimalist color and design.
The cocoon-shaped 3D stereoscopic design does not put pressure on the baby's body.
Can be mounted anywhere with snap button




It can also be used as a stroller foot muff.

Waterproof and anti-fouling function makes it cleaner




You can use it without worrying about rain or snow

Ultra-lightweight 347g padded warmer!




Filled with 6 oz cotton, it's light and warm enough.
Newborn inserts

Newborn inserts for 0-3 months

Baby seat belt

It is used by connecting to the baby carrier hook so that the baby can sit more safely in the baby carrier.
Foldable travel bag

The foldable Boston bag is easy to carry.

100% organic dredge

Hang it on a shoulder strap that your baby frequently bites and sucks.
Extension belt

If the waist circumference is 43 inches or more, connect it to the hip seat waist belt.

Sleeping hood

Used to protect the neck or head of babies over 3 months.